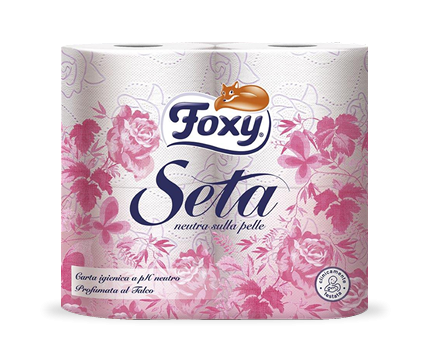 Foxy Seta
Neutral on skin.
Skin is, by nature, sensitive. And certain areas are all the more so. Foxy Seta toilet paper ensures the highest level of security when in contact with the skin of all family members. It respects the physiological pH of intimate areas as confirmed by ad-hoc trials performed at the University Dermatology clinic of Florence.
Each roll of Foxy Seta is enriched with a light perfume applied to the cardboard core (and not on the tissue). This makes the toilet tissue more delicate on skin and diffuses a pleasant scent of talcum in the bathroom.
2-ply toilet paper.
100% pure virgin cellulose.
Talcum-scented.
Pack sizes: 4+2 rolls; 12 rolls.
AVAILABLE FORMATS
4+2 Rolls

12 Rolls