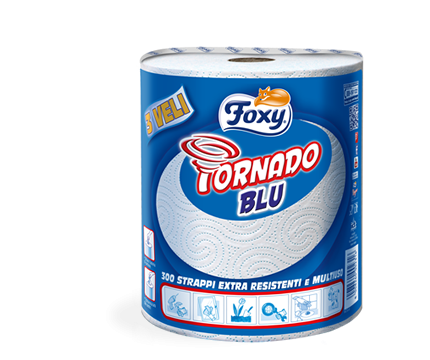 Foxy Tornado Blu.
For all household chores.
The combination of the 3 plies and the Super-Absorbent Vortices gives Foxy Tornado Blu extraordinary cleaning strength, making it the perfect kitchen roll towel for household chores: cleaning, DIY, kitchen or garden duties.

Foxy Tornado Blu is multiuse and contains lots of paper in just one roll. One mini-reel jumbo-roll is worth 6 regular kitchen rolls.
3-ply kitchen towel.
100% pure virgin cellulose.
Extra-strong. Multiuse.
Pack size: jumbo-roll.
AVAILABLE FORMATS
Mono Roll