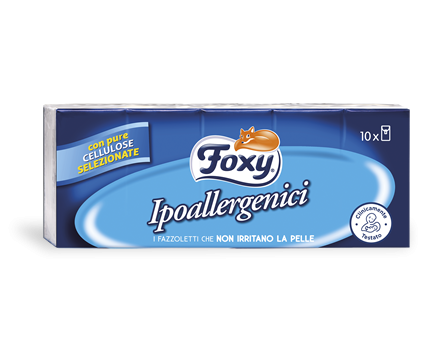 Foxy Ipoallergenici.
They do not irritate skin.
Foxy Ipoallergenici tissues unite the confidence of 4 plies with great softness. Manufactured exclusively from pure selected cellulose, they are effective in minimizing the risk of allergies, as proved by clinical trials.
The edges of Foxy Ipoallergenici tissues, immediately recognizable thanks to their cloverleaf pattern, are designed to reduce the risk of skin irritation.
4-ply tissues.
100% pure selected cellulose.
Clinically tested.
Pack sizes: 10, 12+3, 30 pocket packs.
AVAILABLE FORMATS
10 Packets

30 Packets

12 + 3 Packets