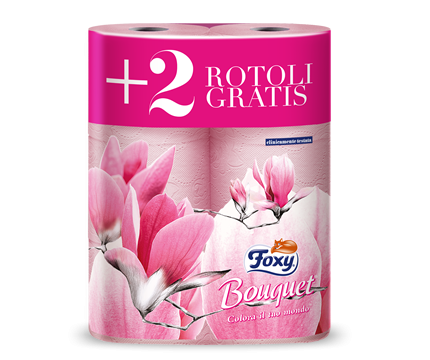 Foxy Bouquet.
Color your world.
The vivacity of colors and the fresh scent of perfume to give personality to your bathroom. Foxy Bouquet is the only color- and scented-coordinated toilet. Available in three exclusive types versions you can choose the one that most suits you.
Each roll is scented with a delicate fragrance applied to the cardboard core (and not on the tissue). This makes the tissue more delicate on skin and diffuses a pleasant scent of freshness to the bathroom.
2-ply toilet paper.
100% pure virgin cellulose.
Scent coordinated with the color of the tissue.
Pack sizes: 4+2 rolls, 12 rolls.
AVAILABLE FORMATS AND COLORS
4+2 Rolls

4+2 Rolls

4+2 Rolls

12 Rolls

12 Rolls

12 Rolls