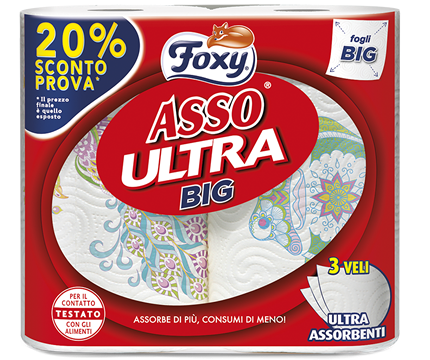 Foxy Asso Ultra BIG
Adsorbs more, consumes less.
Foxy Asso Ultra BIG is the new kitchen roll with higher performance. The 3 ply tissue paper with innovative Super-Absorbent Vortices, guarantees superior resistance and absorbency.
The size of the sheets that are much bigger than regular kitchen roll, makes the product even more efficient, one sheet is more than sufficient for all its major uses.
Like all Foxy kitchen towels, also Foxy Asso Ultra BIG is suitable for food contact, as confirmed by trials performed at independent and certified laboratories.
Decorated 3-ply kitchen towe
100% pure virgin cellulose.
Ultra-absorbent, ultra-resistant.
Pack sizes: 2, 4, 6 rolls.
New Mandala collection.
Discover the 11 new owl décors! Discover the 11 new decorations with the Mandala theme.