A MAGAZINE FOR THE PIGOTTA RAG DOLL

"Un mondo più morbido" (A softer world)
To get people better acquainted with UNICEF's Pigotta rag doll and to show how much enthusiasm, creativity and energy rotates around the Adotta una Pigotta initiative, Foxy publishes a dedicated magazine: Un Mondo Più Morbido®.

Un Mondo più Morbido has been created to accompany readers along an exciting journey to discover the goals and the important results attained, but also to read about the curiosities, the interesting people and facts that make Adotta una Pigotta such a unique initiative.

Un Mondo Più Morbido is a biannual magazine that is given with the Pigotta doll and that can be found at all UNICEF Adoption Points, or sent directly to your home totally free of charge.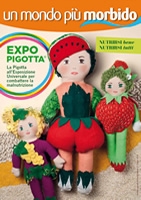 Number 22
Reading Un Mondo più Morbido you can discover all the news and initiatives and understand how, through the Pigotta, you can take part in a great cultural and social project and concretely help UNICEF fight child mortality in Central and Western Africa.
Download
Back issues
To review the history of Un Mondo Più Morbido, below are all the issues published from 2004 until today.
Number 1

Number 2

Number 3

Number 4

Number 5

Number 6

Number 7

Number 8

Number 9

Number 10

Number 11

Number 12

Number 13

Number 14

Number 15

Number 16

Number 17

Number 18

Number 19

Number 20

Number 21
How receive the our Magazine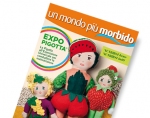 To receive Un Mondo Più Morbido delivered to your home free of charge, just fill out the request form
Ask our Magazine