Foxy. Always close to you
Foxy was launched on the Italian market in 1982 as a brand of toilet paper, kitchen rolls towels, table napkins and tissues, characterized by the presence of a cute little female fox drawn on the packaging. This is how Foxy was born, designed in the studio of one of the most famous Italian cartoonist: Bruno Bozzetto.
The quality of the raw materials, the care for details and the continuous engagement to be "always close to you" described in its TV advertising campaigns have made Foxy one of the most appreciated brands by consumers.
Through Throughout the years, the Foxy brand has always renewed itself, continuously experimenting and innovating. This is the spirit that gave birth to Foxy Cartapaglia, the kitchen towel made adding straw cellulose; Foxy Seta, the only pH-neutral toilet paper, and all the other products. Foxy was also one of the very first brands to use the Internet to hold an open dialogue with consumers.
Foxy has been partnering with UNICEF since 2000 in support of the "Adotta una Pigotta" initiative, who's aim is to help children in developing countries grow healthy.

In 2014 Foxy also began collaborating with Dynamo Camp, a highly specialized structure hosting children suffering from serious or chronicillnesses that practices "therapeutic recreation".
Foxy has also been launched in Spain, Poland and France, where it is witnessing great success. The cooperation between Foxy and UNICEF has been extended to these countries as well.
Foxy: the fox
The little fox first made its appearance on the Italian market in 1982. Backthen, the initial Toilet paper, kitchen towels, napkins and handkerchiefs packs bore the image of the fox as their mascot, testifying to the sheer genius and softness that have always characterized the entire product range.
Starting in the 1980s, Foxy has also been a costant on television as the protagonist of catchy commercials, some of which are still famous today. Thirty years later the same character is still featured in Foxy product commercials as their testimonial, winking at its consumers in the closing scene.
Our campaigns
Since the very launch of the product, one of the strategic elements has been the use of advertising to create brand awareness and a relationship with consumers.
Our commercials
Although TV undoubtedly remains the most used means of communication, Foxy has also been advertised through the most important media: radio, magazines and newspapers, billboards, cinema and the Internet.
In partnership
with Dynamo Camp.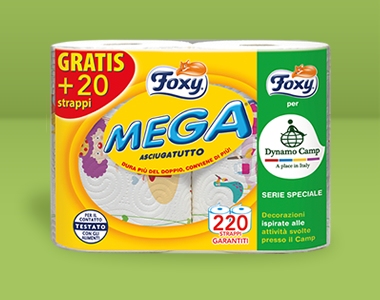 A special edition of Foxy Mega with 11 new designs inspired by the activities of the Dynamo Camp.
Foxy for Dynamo Camp